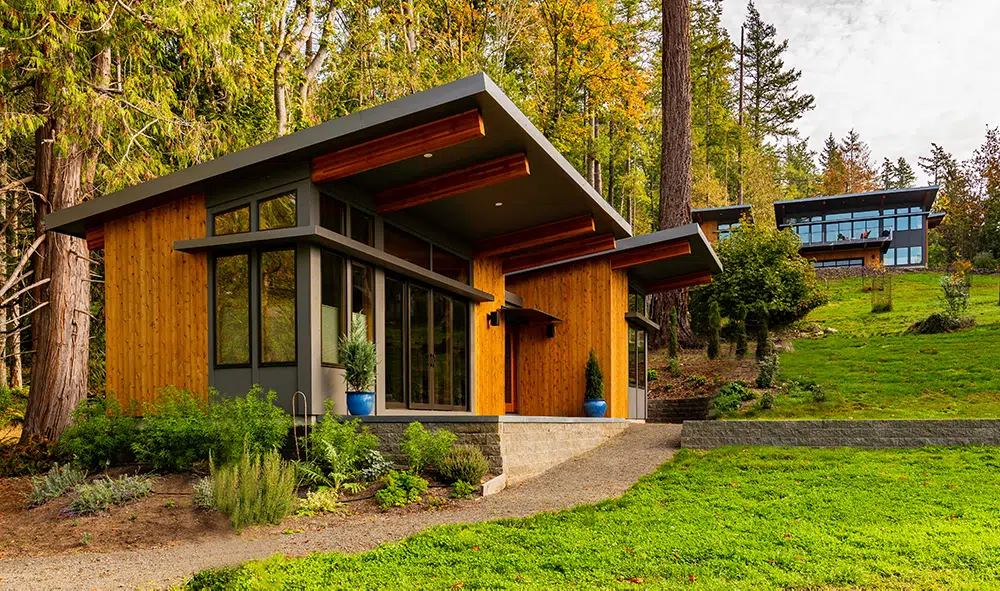 Bainbridge Island, WA
sd-152
Interested in this Stillwater Design?
"We call it our 'see-through house.' We love the feeling of walking up to the glass front door and having it seemingly opened by the Olympic Mountains in the background. Because the house was built on a hill, the massive cantilevered deck and butterfly roof creates the sensation that the house has taken flight. It feels as if we're floating above it all in our own piece of paradise.
Nick is a third-generation carpenter and house builder from Nantucket Island, Massachusetts. When we were considering our architect, we knew that a quality and enduring end-product was non-negotiable. The Stillwater concept and design met our standards for a house that will stand the test of time. I imagine that someday Stillwater homes will be desirable with the same force and effect as authentic mid-century modern homes are today. Stillwater homes are a piece of art.
There is a misconception that a modern home cannot also be warm and inviting, nor truly reflective of the family living within. This is not true. The Stillwater design provided us a platform to make the house our own including mixing the modern with the old, the purchased with the created. We also brought in materials from the outdoors; the effect being a blend of environments that in the end is our home. There is an authentic space for everyone in our family, from twelve years-old on up!"