Stillwater Dwellings offers luxurious modular homes at surprisingly affordable prices. Our innovative approach to home-building allows us to offer high-end, modern homes at a fraction of the cost and time of traditional construction methods. This means you can have the dream home you've always wanted without breaking the bank.
But what exactly makes our modular homes so affordable? Let's take a closer look at the key factors that contribute to our competitive pricing.
What Makes A Modular Home Different From A Traditional Stick-Built Home?
Modular homes differ significantly from traditional, stick-built homes, primarily in their construction process. While stick-built homes are constructed entirely on the building site, modular homes are assembled in sections or 'modules' at a separate location, and then transported to the home site location. This off-site construction process allows for a quicker build time, often resulting in cost savings.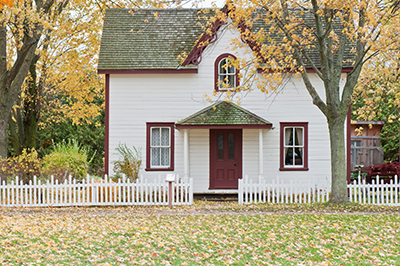 Advancements in modular home construction ensure that these homes are not limited in design or quality compared to their stick-built counterparts. They can be customized to fit any architectural style and can incorporate high-end finishes and features.
One significant advantage of modular homes is their ability to be placed in locations that may be challenging for traditional construction. Modules can be transported to the home site location, even if it's remote or difficult to access, without the need for extensive site preparation.
Lastly, utility connections for modular homes are often simpler to manage than for traditional homes. Because the construction site itself is less disruptive — the majority of the work occurs off-site — utility connections can be pre-planned and executed smoothly, reducing delays and unexpected costs.
The Benefits of Luxury Prefab Modular Homes
Luxury prefab modular homes offer unparalleled advantages over traditional stick-built homes. Firstly, the modular home cost can be significantly less due to efficiency in bulk purchasing and production. Homeowners typically save money as the expedited construction time reduces labor costs and interest on construction loans.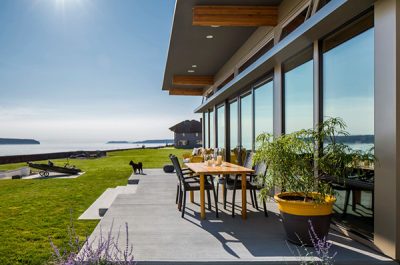 Moreover, the streamlined process of obtaining building permits, managing delivery costs, and ensuring compliance with local building codes is often quicker and less hassle with modular homes. Prefabricated in factories, these homes are built to exact standards, ensuring every square footage of your home meets or even exceeds building regulations.
Another major advantage of modular homes lies in their ability to withstand extreme weather conditions. They are designed and constructed to endure wind, rain, and snow loads in the area where they will be placed, offering homeowners peace of mind.
When it comes to floor plans and customization options, modular homes do not disappoint. Homeowners have the flexibility to choose from a wide variety of designs, and can easily incorporate additional features and exterior finishes. Plus, modular homes are notably energy efficient, with proper insulation and drainage systems installed during construction.
Last but not least, the resale value of modular homes is competitively strong. They retain value well over time, especially because of their energy efficiency and customization options. So, whether you're adding an extra bathroom, choosing upscale exterior finishes, or opting for other additional features, you're not just creating a home you love, but also investing for the future.
What's Included In The Modular Home Price?
When considering the purchase of a modular prefab home, it's crucial to understand what's included in the modular home price. The base price of a modular home typically includes the cost of building the modules, their transport to the home site, and their assembly into a finished home. This base price is part of the average modular home prices you might see advertised.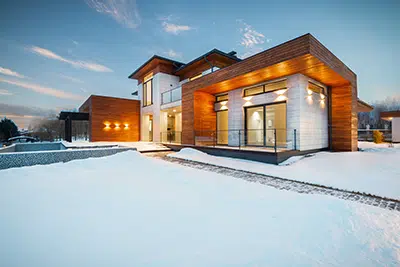 However, the modular home cost extends beyond this. Other costs are not included in the base price that one should be aware of. These include sales tax, which is determined by the tax rate in your area, and can add a significant chunk to the final costs of your home.
Another factor to consider is the required permits. Depending on your location, you may need to obtain and pay for various permits for your modular home to be installed and connected to local utilities. The cost of these permits is not usually included in the advertised price of a modular home.
Finally, there are other costs to consider, such as landscaping, driveways, and other finishing touches that turn a house into a home. These are not usually included in the base price and may need to be budgeted for separately.
Keep in mind that these additional costs can vary widely depending on your specific needs and location. By considering all these factors, you'll have a clearer picture of the final cost of your modular prefab home.
Luxury Modular Home Prices Around The Country
Modular home prices vary greatly depending on a variety of factors such as the location, size, and finishes chosen. However, compared to traditional stick-built homes, modular homes are generally more affordable while still offering all the benefits of luxury living.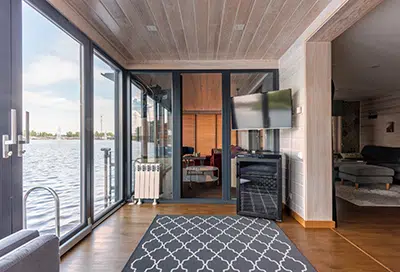 In some areas of the country, like the Northeast and West Coast, luxury modular home prices can range from $200 to $300 per square foot. In the Midwest and South, prices can be as low as $100 to $150 per square foot. These price ranges include the cost of land and site preparation.
It's important to note that while modular homes may have a lower upfront cost, they often require less maintenance over time due to their high-quality construction and energy-efficient features. This can result in long-term cost savings for homeowners.
This is why luxury prefab modular homes offer a cost-effective and efficient way to build a high-end dream home with all the desired features and finishes. With advancements in technology and design, these homes are not only stylish and customizable to your unique style, but also durable and energy efficient.
Trust Stillwater Dwellings to bring your dream home to life with our exceptional modular home-building process. Contact us today at 800-691-7302 or [email protected] to learn more and start the journey toward owning your very own luxury prefab modular home!
Luxury Prefab Modular Homes at Stillwater Dwellings
At Stillwater Dwellings, we take pride in being a reputable builder of luxury prefab modular homes and have extensive experience in providing a seamless transition from dream to reality. Our modular home offerings are not just about four walls and a roof; instead, we focus on your dream home, the place where you create cherished memories. Our focus on careful planning and unparalleled customer service ensures every modular house we build is unique in style, reflecting the personality of its owners.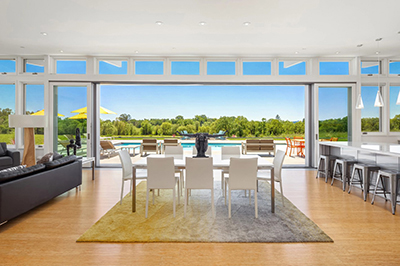 We offer a wide range of modular home floor plans to cater to all kinds of requirements and tastes. Be it a cozy house with three bedrooms or a sprawling one for a large family, our modular home builder team can tailor-make it to suit your preferences. We are dedicated to transforming your vision of a dream prefab home into a tangible reality, all without compromising on quality or aesthetics.
At Stillwater Dwellings, we believe that your dream home should be built with love, care, and meticulous attention to detail. We assure you, that when you choose us to build your modular home, you're embarking on a journey towards a home that's uniquely yours, in every sense. Trust Stillwater Dwellings with your dream – we promise to make it a reality.
Reach out to us today by calling 800-691-7302 or emailing [email protected] and let's get started creating your brand-new modular home!
Frequently Asked Questions
How much does a modular home cost in California?
The cost of a modular home in California varies depending on several factors such as the size, design, materials used and location. However, at Stillwater Dwellings, we offer luxury modular homes with prices starting from $200 per square foot. Our pricing is significantly lower compared to traditional stick-built homes without compromising quality and design.
How much does a luxury modular home generally cost in the US?
The cost of a luxury modular home in the US can range from $100 to $300 per square foot. This price includes the cost of land and site preparation, making it a more affordable option compared to traditional stick-built homes. Keep in mind that this price can vary depending on location, size, finishes, and other factors.
How does land preparation affect the cost of a modular home?
Land preparation is a significant factor in the total cost of a modular home. It involves preparing the site where the home will be placed, including clearing the land of trees and other debris, leveling the ground, and installing the foundation. The cost of land preparation can vary greatly depending on the condition of the site and local regulations.
How are modular homes different from manufactured homes?
Modular homes and manufactured homes both are built in factories but they have some key differences. Modular homes are constructed in sections and then transported to the site, where they are assembled and placed on a permanent foundation. They must meet local building codes. On the other hand, manufactured homes, also known as mobile homes, are completely built in a factory and then transported to the site, where they are placed on a temporary or permanent chassis. They are governed by a federal building code.
What is the role of a factory in the production of modular homes?
A factory plays a crucial role in the production of modular homes. These homes are built in sections, or modules, in a controlled factory environment, which allows for efficient use of materials and precise construction. The factory-built modules are then transported to the building site and assembled on a permanent foundation.
What does land clearing entail in the process of setting up a modular home?
Land clearing is the first step in preparing a site for a modular home. It involves removing trees, shrubs, rocks, and other obstructions from the property to create a clear, level area where the home will be placed. This process can affect the overall cost and timeline of the modular home project, and it's essential to factor into the planning stages.